Advantages
Natural reflectivity creates invisibilityThe challenge for each dentist is to create perfectly invisible restorations which satisfy patients in a limited amount of time. However, copying the natural colour and reflection of a tooth is difficult. It took all GC's expertise to develop the unique composition of G-ænial, which makes its optical properties match those of a natural tooth.
A unique composition with an internal reflectivity which accurately reproduces that of natural tooth.
Thanks to its high light scattering properties, G-ænial will blend perfectly with the surrounding cavity. The chameleon effect which can be achieved with just one shade of G-ænial is of such a high standard that the restoration not only matches the surrounding natural tooth, it blends and becomes aesthetically invisible.
A. Initial situation: cavity in a composite block; shade A3
B. Cavity filled with competitor's material – low light scattering composite; shade A2
C. Cavity filled with G-ænial – high light scattering composite; shade A2
Forward-thinking shading concept
The range of restorative materials that are currently available on the market do not always suit the way in which dentists work nowadays. Often, a compromise must be made between aesthetics and simplicity. Now, you don't have to settle for less and can offer your patients the very best aesthetic restorations with one shade, by using G-ænial from GC.
Aesthetic results for more demanding cases using 2 or 3 shades are now also possible with the help of an advanced shading system that was designed with G-ænial. This means that even layering is simplified.
Standard Shades

Special Shades
Although for the majority of cases, excellent aesthetics can be achieved with just a single shade; there may be times when a multi-shade technique is preferred, such as when extensive restoration is required. The G-ænial range offers two types of additional shades to choose from, called Special Shades which are placed underneath (Inside shades) or on top (Outside shades) of a Standard Shade.
Outside Special Shades – to replace enamel
A common technique in restorative dentistry is to relate the colour and translucency of the natural enamel to the age of the patient. The choice of the enamel shade is made accordingly: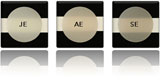 Junior Enamel for young patients
Adult Enamel for adult patients
Senior Enamel for senior patients
Outside Special Shades – to create specific visual effects:

Translucent Enamel simulates a depth-effect in restorations.
Incisal Enamel can be applied on the enamel occlusal third and proximal surfaces, particularly with young patients.
Cervical Enamel offers the right translucency to let the darker cervical dentin shine through.
Inside Special Shades – to add opacity
These are opaque shades which are placed underneath a Standard Shade to add warmth to the final colour and eradicate the characteristic 'dark shine' throughout the mouth. Available only in the G-ænial Anterior version there are three Inside Special Shades:

Easy Handling
G-ænial is one of the few composite materials that really qualify as being user-friendly, thanks to its advanced shade system and because it is a unique composite that offers effortless manipulation. GC is confident that you will enjoy the handling of G-ænial because of how its consistency and working times are suited to the restorative classes.


Good polishability
For improved aesthetics, G-ænial Anterior and Posterior polish quickly and easily to a smooth, glossy surface.


Simplified follow-ups
Although aesthetically invisible, both G-ænial Anterior and Posterior are easily traceable through x-rays. Featuring a unique and GC patented High-Density Radiopaque (HDR) Technology, the radiopacity of G-ænial is significantly increased without compromising aesthetics.
Tough and flexible
G-ænial Anterior and Posterior have a high fracture toughness and flexural strength combined with a low modulus of elasticity to avoid bending and occlusal forces, as well as the spreading of cracks.